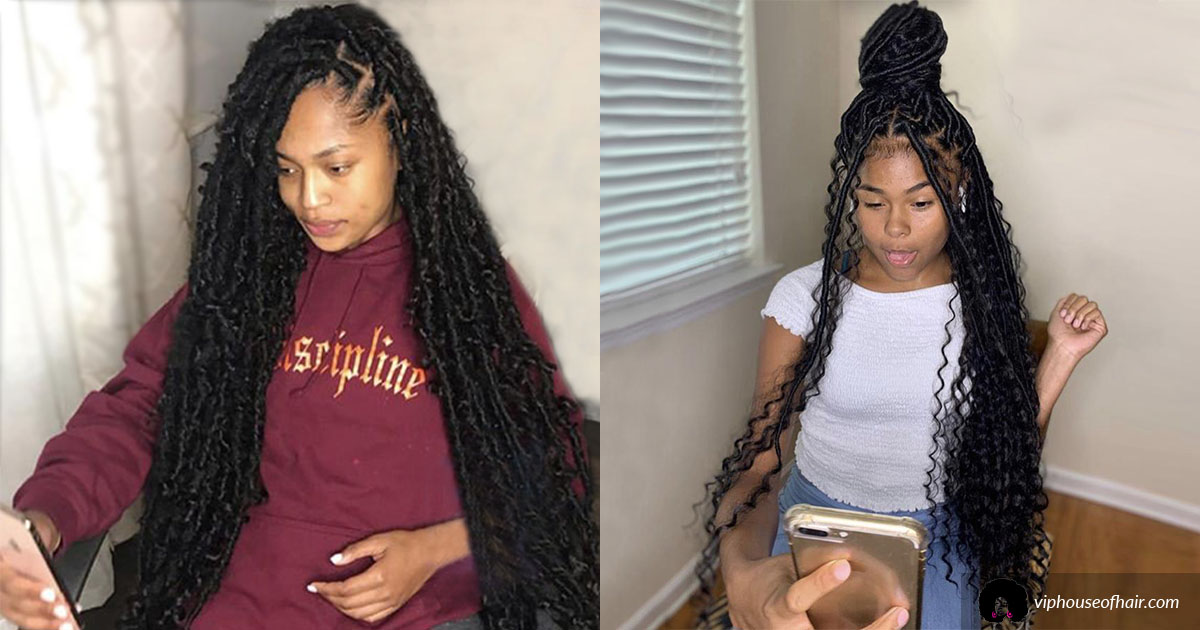 Our VIP Beauties can't stop talking about bohemian locs. And rightfully so as they are beau-ti-ful! These bohemian locs are by far the best crochet locs that money can buy.
Boho locs are like mermaid locs except they are little more relaxed. They look amazing when worn long! Hair like this will suit everyone.
So, what's the difference between faux locs, goddess locs, and bohemian?
Faux locs are loc extensions made to resemble natural locs and use no loose hair.
Goddess locs are a loc style created with curls/waves coming to the end.
Bohemian (sometimes called gypsy), have curls/waves throughout. Just like goddess locs, the curl/wavy comes to the ends. This result is a fuller more 'boho' look.
Very easy to install. Generally takes more than 3 hours from cornrows to finished style. But, this depends on the length and thickness of braided hair.
Very light-weight and looks so natural! You'll get compliments everywhere you go. People will even ask you how long it took you to "grow your locs" because they look so natural.
These crochet locs are a great protective style. Plus, you don't need to separate them daily, so they are also low maintenance.
Bohemian locs are popping up all around the internet from YouTube to Instagram to star-studded events.
So, what separates these locs from regular locs you ask? Great question — they are unique because they're often styled with curly or wavy hair intertwined throughout the loc itself. This creates a free-flowing and carefree style, Our VIP Stylists have accomplished this look with such ease!
For pricing and to schedule an appointment, call (661) 723-0990 or swing by VIP!
You may also enjoy reading: Clip-Ins Are IN At VIP!